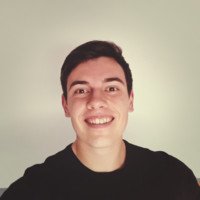 Background
Tom Bruijnen completed his Bachelors and Masters of Science (cum laude) at the Technical University of Eindhoven (the Netherlands) in Biomedical Engineering in 2011-2016. During his Master he visited the KCL Cardiac MRI group for a 5 month internship on cardiac Magnetic Resonance Fingerprinting. After his internship he joined the radiotherapy department of the UMC Utrecht where he worked on intrafraction motion quantification of head-and-neck tumors for his MSc thesis. Tom is currently a PhD student in the Radiotherapy department of the UMC Utrecht and the Computational Imaging Group under the supervision of Rob Tijssen, Alessandro Sbrizzi, Nico van den Berg and Jan Lagendijk. During his PhD he works within the RESOLVE project, which is about enabling MR guided radiotherapy of moving abdominal tumors and organs by development of a dense eLement receiver array and highly undersampled, parallel MRI. Within this project Tom primarily develops new MR acquisition and reconstruction methods for pre-beam imaging on the MR-linac.
Projects
Three most recent publications
Gaussian Processes for real-time 3D motion and uncertainty estimation during MR-guided radiotherapy.

Medical Image Analysis

,

2023.

The future of MRI in radiation therapy: Challenges and opportunities for the MR community.

Magnetic Resonance in Medicine

,

2022.

A mask-compatible, radiolucent, 8-channel head and neck receive array for MRI-guided radiotherapy treatments and pre-treatment simulation.

Physics in Medicine & Biology

,

2022.
Keywords: Pulse programming & MR acquisition | Motion estimation/correction | (non)-Cartesian image reconstruction | MR-guided radiotherapy
Social media and other resources
Email: t.bruijnen@umcutrecht.nl | CV | Google Scholar | ResearchGate | LinkedIn | Pubmed