Description
Dynamical information can be a valuable source of information for cardiovascular or musculoskeletal studies. However, measuring dynamics at a high spatial and temporal resolution with conventional MRI techniques is extremely challenging. Spectro-dynamic MRI aims to infer dynamical properties directly from k-space data. It achieves this by jointly reconstructing the time-resolved images, the displacements, and the mechanical parameters, all directly from the measured k-space data.
In our latest work, we have applied Spectro-Dynamic MRI to estimate time-resolved dynamics in the human thigh. Next to the motion fields, the mechanical properties of the muscle tissue could be inferred from the measured data.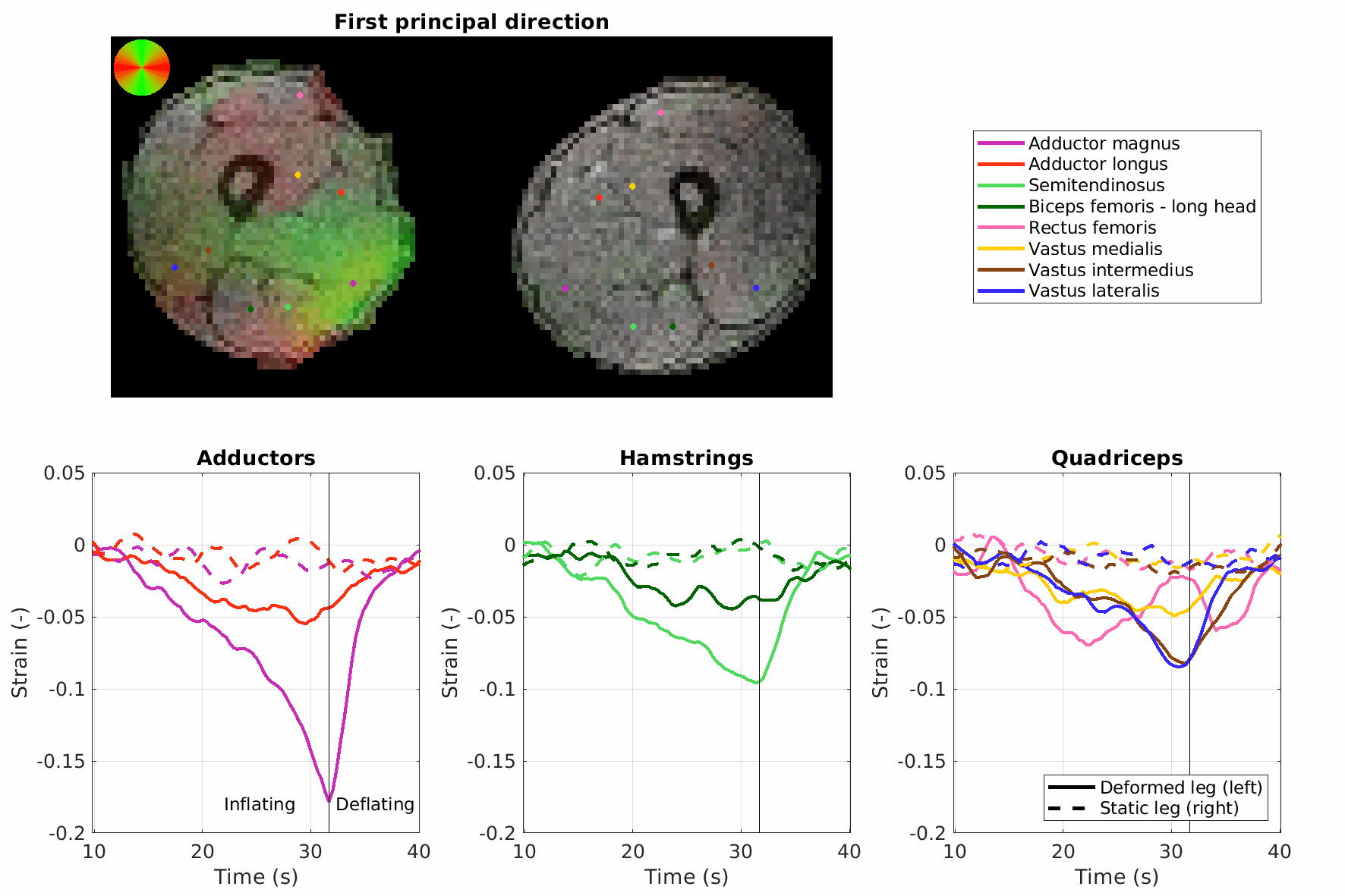 Figure 1: Top: The direction (hue, red = LR, green = AP) and magnitude (transparency) of the first principal strain overlayed on top of the estimated image series. Bottom: The first principal strain value for a few spatial locations (see colored dots) over time for both legs (solid lines for the deformed left leg, dashed lines for the static right leg). This value is negative, indicating a compression caused by the applied pressure. Furthermore, the spatial distribution of the principal strain direction is related to the underlying anatomy of the different muscles.
Max H. C. van Riel, Niek R. F. Huttinga, and Alessandro Sbrizzi. Spectro-Dynamic MRI: Characterizing Mechanical Systems on a Millisecond Scale. IEEE Access, 2022. doi:10.1109/ACCESS.2021.3138631.
Max H. C. van Riel, Tristan van Leeuwen, Cornelis A. T. van den Berg Berg, and Alessandro Sbrizzi. Time-Resolved Reconstruction of Motion, Force, and Stiffness Using Spectro-Dynamic MRI. IEEE Transactions on Computational Imaging, 2023. doi:10.1109/TCI.2023.3324757.
Grants
NWO-VIDI grant 18897 2021-2026 (P.I.: Alessandro Sbrizzi)
People